A stool or bowel movement is defined by the National Institute of Digestive Diseases as what is left after your digestive system (stomach, small intestine, and colon) breaks down and absorbs nutrients and fluids from what you eat and drink.  While no one likes to talk about it, regular bowel movements are imperative to our health.  In this blog article I'll briefly cover what to be aware of in regards to bowel movements and what they can be indicative of in terms of our digestive health.
Bowel Movements – What Should I Be Aware of?
Unless you are suffering from intestinal issues, most of us don't spend a lot of time thinking about our bowel movements.  If you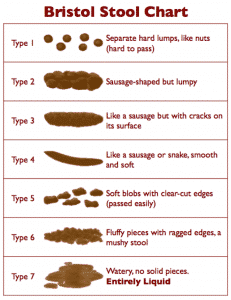 were asked to describe a normal bowel movement could you do it?  Since there is no a standard definition of a "normal" bowel movement, don't be worried if you struggled with that question.  Bowel movements are highly individualized based on factors like diet and exercise.  The key thing to be aware of is what is normal for you.  Take note of the four characteristics below and let you doctor know if any of them change dramatically.  It's helpful to create a log of any changes with dates and use the Bristol Stool Chart diagram to describe the shape.
Read The Article