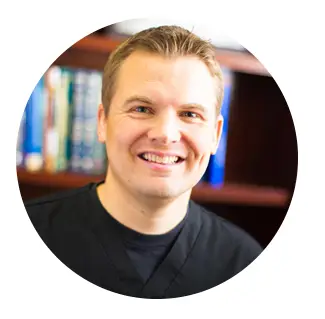 Matthew Eidem, MD
Dr. Eidem is a digestive health specialist and is considered one of the best stomach and colon doctors in Plano. He completed his post-graduate training in internal medicine and gastroenterology at the UT Health Science Center at San Antonio. During this training, he served as the Chief Resident and was honored with the Shirley D. Levine Most Compassionate Intern Award.
His gastroenterology practice specializes in important health maintenance screenings of the GI tract like colon cancer screening with colonoscopy. Early detection and diagnosis of cancer saves lives. He helps to promote this awareness by participating in local DFW area events each year. To learn more about screening guidelines, please visit our colon cancer information page.
Dr. Eidem's patients often comment on his unique ability to convey knowledge to them regarding their condition and the rationale behind treatment plans tailored to fit their needs. He is simply regarded as one of the kindest persons you'll meet by patients, staff, and peers.
GI Practice Philosophy
"Excellent medical care not only involves prompt and compassionate service, but also active and ongoing patient education throughout the evaluation and treatment process. I find that patient satisfaction is highest when they are able to effectively participate in their health care decisions."
Gastroenterologist Plano TX
Matthew Eidem, MD brings 15+ years of compassionate and innovative digestive care to the Plano area. If you are experiencing nagging symptoms, such as bloating or hemorrhoids, it's important to be evaluated by a doctor who specializes in digestive health to determine if there is a larger medical issue.
Over 10,000

colonoscopy procedures

performed
700+ online reviews with a 4.8-star average
Distinguished as one of the Best Doctors in Dallas by his peers
Board-certified in Gastroenterology
Outside of Medicine
Dr. Eidem enjoys sports, traveling and spending time with his family. He is married and has two children.
Education
UT Health Science Center | Fellowship in Gastroenterology and Nutrition (2007)
UT Health Science Center | Chief Resident Dept. of Internal Medicine (2004)
UT Health Science Center | Internal Medicine Residency (2003)
UT Health Science Center | Internal Medicine Internship (2001)
University of Minnesota Medical School | Degree – M.D. (2000)
North Dakota State University | Degree – B.S. (1996)
Work Experience
DHAT | Gastroenterologist (2007 – present)

Chief Resident / Clinical Instructor Dept. of Internal Medicine at UT Health Science Center (2003-2004)
Certifications
Board-Certified – American Board of Internal Medicine – Gastroenterology
Board-Certified – American Board of Internal Medicine – Gastroenterology Internal Medicine
UT Health Science Center | Fellowship in Gastroenterology and Nutrition
Medical License Texas | 2000 – present
Hospital Affiliations
Areas of Clinical Interest
Colon Cancer Screening

Heartburn / GERD
Inflammatory Bowel Disease
Honors
Best Doctors in Dallas – D Magazine
Super Doctor & Rising Stars Award – Super Doctors
Patient's Choice Award – American Registry
Dept. of Medicine Fellow of the Year – Univ. of Texas Health Science Center
Junior & Senior Resident of the Year – Univ. of Texas Health Science Center
Shirley D. Levine Most Compassionate Intern Award – Univ. of Texas Health Science Center
Professional Affiliations
American College of Gastroenterology, 2004 – present
Associations: American Gastroenterology Association, 2004 – present
American Society of Gastrointestinal Endoscopy, 2004 – present
Texas Society of Gastrointestinal Endoscopy, 2004 - present
Texas Medical Association, 2000 - present
Research
"Gallstone Ileus Presenting as Hematemesis", Eidem M. et al. Experience: Gastrointestinal Endoscopy. 66(3): 596-597, September 2007
"Affect of One Dose of Zegerid® on a Four Day pH Study in a Trauma Victim", Brown K., Eidem M. – Poster Presentation at American College of Gastroenterology Annual Meeting in Las Vegas, Nevada, 2006
"Patient Use of Herbal Medicines in Rural Allopathic Clinics: Turning Over a New Leaf?" - a community-oriented clinical project, Brainerd, Minnesota, 1999