WHAT IS COLON CANCER?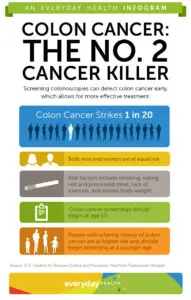 Colon cancer or colorectal cancer refers to cancer of the large intestine and rectum.  It is the third most common form of non-skin cancer in men and women, and the second leading cause of cancer-related deaths in the United States according to the Centers for Disease Control and Prevention.  Colorectal cancer generally begins as a polyp (abnormal growth), which can slowly progress into cancer.  These polyps are usually asymptomatic until they become large or have already turned into cancers. When polyps are discovered and removed early, colon cancer can be prevented.  This makes early detection and removal of polyps of vital importance.  Polyps can be easily removed through a procedure called a colonoscopy.
WHEN SHOULD I GET SCREENED FOR COLON CANCER IN PLANO TX?
An appointment should be made with your gastroenterologist in Plano TX for a colon screening if you are experiencing any of the above-listed symptoms.  Even if you are currently having no symptoms you should follow the suggested screening guidelines from the American Gastroenterological Association (AGA).  If you have a history or family history of polyps, IBD, or colon cancer your doctor will suggest an earlier age to begin colon cancer screening.  According to the AGA, those at average risk should follow these guidelines:
All men and women should be screened for colon cancer beginning at age 50, if not earlier.
African Americans should begin screening at the age of 45
The frequency of screening depends on the method.  For colonoscopy, the recommended interval is 10 years if no polyps are found.  Screening intervals should be discussed with your healthcare professional.
COLON CANCER SYMPTOMS IN PLANO TX
Many people with colon cancer in Plano, TX and all across the world experience no symptoms in the early stages of the disease. When symptoms do appear, they'll likely vary, depending on the cancer's size and location within the large intestine.  Some of the symptoms to watch for include but are not limited to the following:
Rectal bleeding or blood in your stool
Change in your bowel habits
Abdominal pain, cramps, or gas
Bloating
Unexplained weight loss
Weakness or fatigue
WHAT RISK FACTORS INCREASE MY CHANCES OF GETTING COLON CANCER?
Nobody knows what exactly causes colon cancer. However, we do know that most cancers of the colon start out as small clumps of precancerous tissue called colon polyps.  There are many factors that increase your risk of colon polyps and colon cancer.  The list below contains the most well-known and common risk factors for colorectal cancer.
Age of 50 or older
African American race
A personal history or family history of colorectal cancer or polyps
Inflammatory intestinal conditions – such as Ulcerative Colitis
Low-fiber, high-fat diet
Inactive lifestyle
Obesity
Diabetes
Smoking
Alcohol
WHAT HAPPENS IF I'M DIAGNOSED WITH COLON CANCER?
If colon cancer is diagnosed, your Plano TX gastroenterologist will refer you to the appropriate specialist to determine the next steps for treatment.  The three primary options for treatment are surgery, chemotherapy and/or radiation depending on how advanced the cancer is and where it is located within the colon.
Although colon cancer is a growing concern, it is one of the most preventable types of cancers.  By living a healthy lifestyle including eating right, exercising, maintaining a healthy weight, and getting recommended colonoscopies, your chances of developing colorectal cancer are greatly reduced.

Image: Everyday Health