You probably don't think about your colon that often. Unless you're experiencing painful or embarrassing symptoms, such as abdominal pain, gas, bloating, or diarrhea, it probably doesn't cross your mind. But if you're over the age of 45 it might be time to go and see your doctor about colon cancer screening – yes, even if you feel fine!
We use screening exams to look for evidence of disease in patients who show no symptoms of colon cancer – whereas we use diagnostic exams to evaluate patients already showing symptoms. If you're dealing with a change in bowel movements, bleeding from the anus, blood in your stool, or a pain or lump in your abdomen, I recommend seeing your doctor as soon as possible for recommendations regarding diagnostic testing.
If you're not experiencing such symptoms, screening is still important for your health. The earlier that colon cancer is detected, the better the chance of beating it. Also, by removing precancerous polyps, colon cancer can actually be prevented.
I'm going to talk you through two different colon screening options:
Colonoscopy – the gold standard and the most common screening exam
Cologuard – home screening test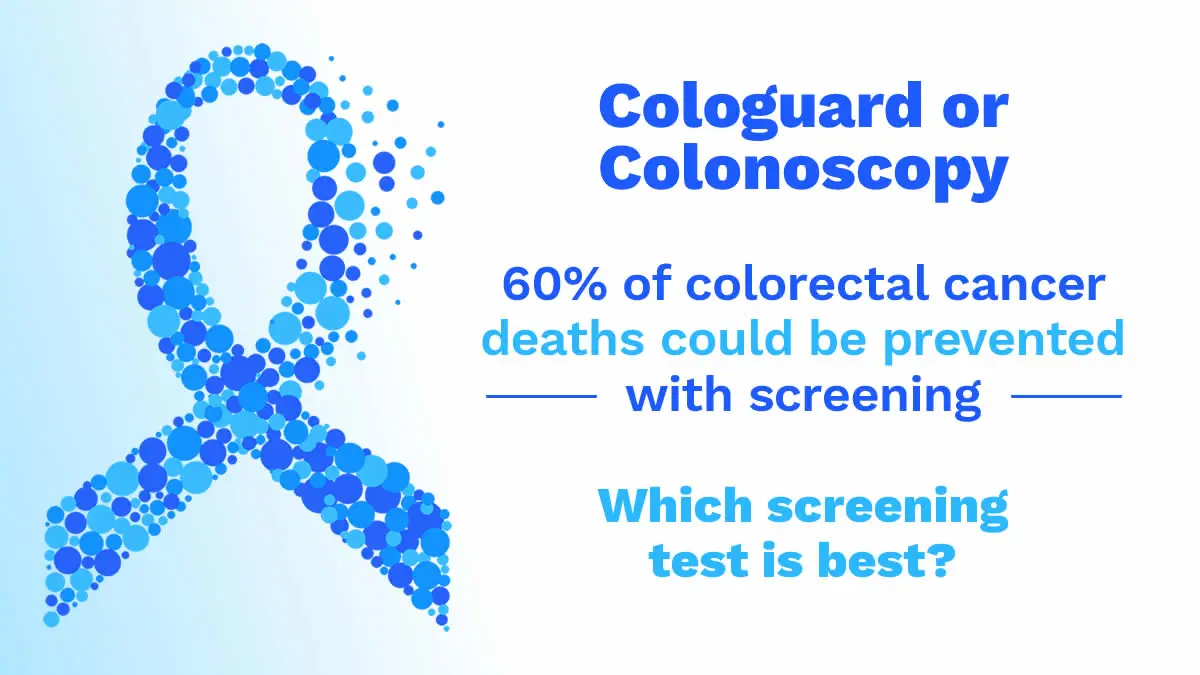 What Is a Colonoscopy?
Colonoscopy is the gold standard way to screen for colon cancer – it's the only exam where your doctor can visualize your entire colon and rectum. A colonoscopy is an internal screening exam which your gastroenterologist performs to check for abnormalities or other signs of disease in your large intestine (or colon).
After you take a sedative to make you comfortable, your doctor uses a thin, flexible camera inserted into your rectum to check the walls of your colon. In addition, if any abnormalities are found, they can be biopsied immediately. Polyps can be removed and sent for further testing to see if the polyp is a precancerous lesion.
If the samples taken from your colon are malignant, your doctor should discuss your options with you in order to start a treatment plan. Early detection of colon cancer can make all the difference.
What Is a Cologuard Test?
A Cologuard test is an FDA approved home testing kit used to screen for colon cancer, that only your doctor can prescribe. Using the testing kit, you collect a stool sample and send it to their lab, where they look for traces of blood and abnormal DNA. Blood in your stool and irregular DNA may indicate colon cancer or large precancerous polyps.
You should NOT use Cologuard if you have:
A history of colon polyps
A family history of

colon cancer

Inflammatory bowel disease (IBD)
Symptoms that may be caused by colon cancer, including –

Constipation

or diarrhea
Changes in shape or color of your stool
Rectal bleeding
Abdominal pain or cramping
… If you have any of the above symptoms or conditions, you should have a colonoscopy and should NOT use a Cologuard test.
The results of a Cologuard test are either "negative" or "positive". Negative means that there's no detectable evidence of colon cancer or large precancerous polyps in your bowel at the present time. Positive indicates cancerous or precancerous cells may be present. Testing positive is not a diagnosis – Some DNA stool screening tests result in false positives. The Cologuard test should not be considered a direct replacement for a colonoscopy.
Colonoscopy vs Cologuard: What's the Difference?
The obvious difference between Cologuard and colonoscopy is that Cologuard is a non-invasive test where a stool sample is collected at your home and mailed to a lab. The colon is not visualized and polyps cannot be removed.
Conversely, a colonoscopy is a procedure done while the patient is sedated and comfortable which uses a thin scope to visualize the colon and remove polyps if present. Removal of polyps has been proven to significantly decrease colon cancer risk.
Cologuard doesn't require any prior changes in diet or medications before taking the sample.
Prior to a colonoscopy, you need to take a bowel prep so that the colon can be emptied and the colon can be visualized.
There are other differences to keep in mind when considering Cologuard or a colonoscopy:
Polyp detection – A Colonoscopy exam can detect all types of polyps, but Cologuard can only detect them once they are large and advanced.
Accuracy – Colonoscopy detects over

95% of all colorectal cancers

, while Cologuard detects

92% of colorectal cancers and only 42% of the precancerous polyps

(the large and advanced type). Both doctor and patient must bear in mind that Cologuard has a

13% false-positive rate

.
How often do you need to repeat the test – Cologuard must be repeated every three years if you've never had a positive result. Once you have had a positive result, you will need to have diagnostic colonoscopies for further screening exams. Colonoscopy procedures should be repeated every 10 years if you have never had any polyps.
Price – Dependent on whether you're using insurance or self-pay:

Medicare and most insurance policies cover the expense of Cologuard and Colonoscopy if they are used as screening exams.
Important Note: If a Cologuard test comes back positive and a colonoscopy is required, the subsequent colonoscopy will no longer be classified as a screening exam and the cost of the procedure will now be applied to the patient's insurance deductible.
If you're a self-pay patient, Cologuard costs $650 per test. Colonoscopy costs more – around $2000-2500, with the possibility of a pathology fee if you need a biopsy.
When comparing the cost of the procedures, bear in mind that you need to take a Cologuard test every three years, but you typically only need a colonoscopy every 10 years. The prices become quite comparable.
Our endoscopy center provides excellent service at a competitive price in the Dallas/Fort Worth area. So if you're looking to arrange for a colonoscopy,

get in touch

.
Always do your research – when it comes to your colon health, it's important you understand the pros and cons of Cologuard and colonoscopy before you make your decision.
Colon Cancer Screening Recommendations
I believe that colonoscopy is the best screening test because colon polyps can be removed before developing into cancers. When polyps are removed, colon cancer can actually be prevented.
My main goal is for everyone to get screened. If you do not feel that colonoscopy is the best option for you, please consult with your physician regarding Cologuard testing. Remember that colon cancer is treatable in the early stages of the disease. Feel free to print this article out as a reference so you can discuss your colon exam options with your doctor.
If you're looking for a gastroenterologist for colonoscopy in the Dallas-Fort Worth area, you can schedule an appointment through our website or by calling us at 972-867-0019.